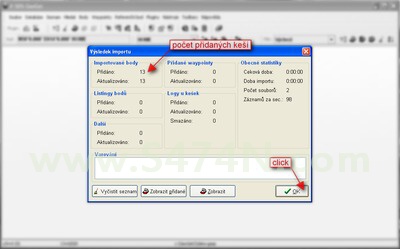 ---
Generování statistik:
Nyní příchází na řadu to nejdůležitější a to je generování statistiky. Samozřejmě následující krok není nutný, ale doporučuji jej pro kontrolu správnosti výpisu všech keší. V liště ikon najděte položku Filtr a v rolovacím seznamu zvolte položku Found. Zadání potvrďte kliknutí na ikonku s názvem Zobrazit podle filtru (F5). Po kliknutí dojde k vypsání veškerých keší podle zvoleného filtru - v našem případě tedy těch, které jste nalezli.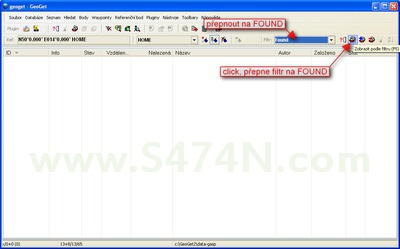 Pokud by náhodou program nedokázal k některým keším přiřadit čas nálezu (datum obvykle přiřadí automaticky již při stahování), tak můžete každou požadovanou keš editovat pravým tlačítkem a zvolením Nastavit nález.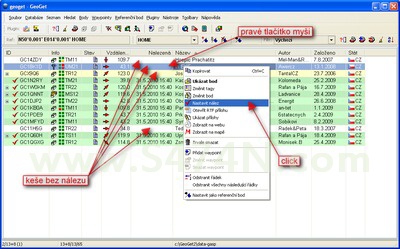 Při zvolení Nastavit nález vyskočí okno s názvem Nastavení nálezu, kde můžete nastavit požadované datum a hodinu nálezu. Po jakékoliv změně je nutno kliknutím na tlačítko Nastavit nález potvrdit zadané hodnoty. Po úspěšném zapsání pokračujeme kliknutím na tlačítkoOK.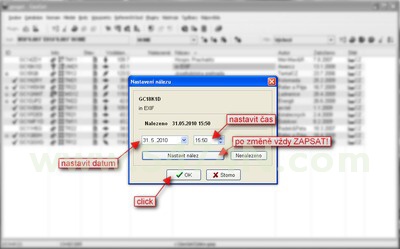 Pokud máme celý seznam v pořádku, což nám indikuje kompletní zelené podbarvení seznamu a veškeré hodnoty ve sloupci Nalezenásouhlasí s požadovaným stavem, můžeme pokračovat kliknutím v horní liště na ikonku s názvem AutoStat 2.53 [ikona tří sloupcových grafů s tužkou].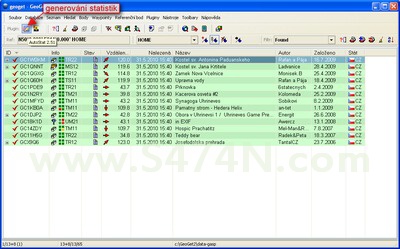 Vyskočí okno s názvem AutoStat 2.53, kde vizuálně překontrolujeme zatržítka a potvrdíme tlačítkem OK. Tímto dojde k zautomatizovanému vygenerování statistik a jejich automatickému nahrání do vašeho profilu na serveru Geocaching.com.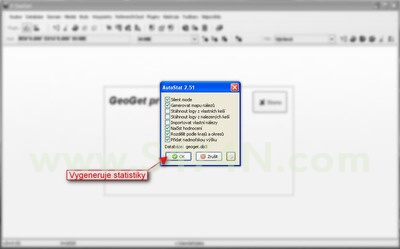 Po dokončení generování statistik se automaticky otevře prohlížeč a načte váš profil. GRATULUJI !
---
Záloha uživatelských dat z balíčku GASP:
Pokud se chcete vyhnout kompletnímu nastavování všech nastavených hodnot znova, doporučuji před každou aktualizací balíčku GASP spustit zálohovací "program", který byl kvůli tomuto vytvořen. Před rozbalením nové verze je tedy nutné spustit program, který naleznete v adresáři data-gasp s názvem !zaloha-cfg.bat. Po přepsání (aktualizaci) balíčku GASP můžete dané konfigurační soubory překopírovat ručně, případně spustit program s názvem !zaloha-obnovit.bat.
Upozornění: v první verzi tyto soubory nebyly, tudíž před aktualizací je nejprve nakopírujte ručně a spusťte, jinak přijdete o veškeré nastavení!
---
Aktualizace balíčku GASP:
Používáte-li balíček GASP ve verzi v1.7.312 a vyšší, můžete již na tento návod zapomenout :-) Program Geoget si totiž sám po svém startu hlídá veškeré aktualizace a není tudíž třeba provádět žádnou ruční aktualizaci.
Upozornění: při aktualizaci přímo programu Geoget je nutné vybrat správnou složku, kde máte GASP umístěný a zatrhnout "Pracovat v přenosném režimu". V opačném případě se provede standardní instalace do C:\Program Files\Geoget a budete mít na počítači dvě různé verze.
---
Nestačí? Chcete vědět víc?
Nelíbí se vám předpřipravená šablona? Chtěli byste jiné nebo další věci ve statistice? Potom neváhejte a rozklikněte si adresář programu
Geoget
a pokračujte dále do adresáře
data-gasp
, dále adresář
script
, poté pokračujte na adresář
GgStat
a nakonec
GgStatDoc
, zde když kliknete na soubor
index.html
, máte k dispozici kompletní dokumentaci ke všem funkcím statistik, včetně úpravy Template (šablony).
Tento návod byl pojat jakožto základní seznámení s problematikou generování statistik. Máte-li jakékoliv přání, poznámku nebo komentář, můžete ji zanechat v tématu na serveru
Geocaching.cz
, které se projektem GASP zabývá.